Event information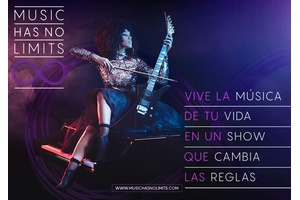 Music Has No Limit
IMPORTANTE: Todos los menores de 16 años deberán ir acompañados por un adulto que ha de tener una entrada adquirida con los mismos derechos. Menores de 16 años solo podrán acceder acompañados de padre/madre o tutor. Es necesaria la aportación de autorización que se puede descargar Aquí. Deberá imprimir y aportar dicha autorización debidamente cumplimentada a la entrada del recinto. Menores de 16 y 17 años podrán acceder solos al recinto pero con autorización por parte de padre/madre o tutor.
Music Has No Limits (MHNL) ya ha hecho vibrar a New York, Miami, Madrid, México, Milán y Barcelona en menos de un año,y ahora llega su gira por toda España.

El mayor espectáculo creado en España con el mejor talento internacional, MHNL, rompe las fronteras tradicionales del mundo de la música para ofrecer una experiencia que agita todos los sentidos y que te dejará sin aliento.
Un gran elenco de artistas fusionan ópera, rock, house, música clásica, dance, gospel, jazz ... .

MHNL ofrece shows intensos, que exploran y renuevan los hits de estrellas como Michael Jackson, U2, Laurent Garnier, Queen, Avicii, Barbra Streisand, The White Stripes, The Police y muchos mas. Tus canciones favoritas interpretadas por genios de todas las disciplinas artísticas unidos en un mismo escenario.
Localization and contact:
Palau de les Arts Reina Sofía
Avenida del Professor López Piñero (Historiador de la Medicina), 1, VALENCIA
Valencia 46013 (Valencia)
España
Extra information
Music Has No Limit
| Fees | Description | Web/Box office | Price |
| --- | --- | --- | --- |
| VIP | Disfrute del espectáculo en las mejores y más cercanas butacas al escenario + CD de regalo | Web + Box office | 58.00€ per person |
| Zona A | Zona A | Web + Box office | 48.00€ per person |
| Zona B | Zona B | Web + Box office | 38.00€ per person |
| Zona C | Zona C | Web + Box office | 34.00€ per person |
| Zona D | Zona D | Web + Box office | 30.00€ per person |
| Diversidad funcional y acompañantes | Diversidad Funcional | Web + Box office | 34.00€ per person |